To:

Mnquma Executive Mayor Councillor Sithembiso Ncetezo Amathole District Municipality, Mnquma Municipality, Butterworth, Eastern Cape
Without water there is no life.Clean Water Now!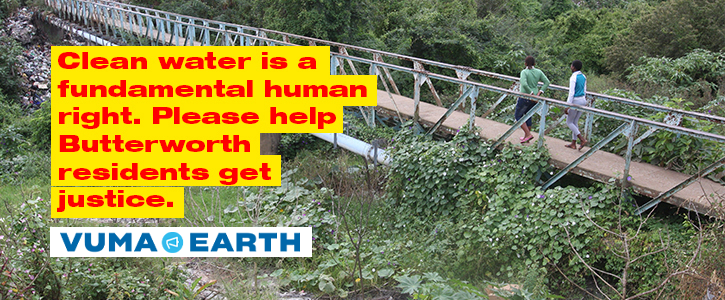 We demand that Amathole District Municipality, Mnquma Municipality, Butterworth, Eastern Cape Executive Mayor Councillor Sithembiso Ncetezo implement long term solutions to the ongoing Butterworth water crisis and provide their fundamental human right to water.
We stand together to tell them to build a wall around the Ngcuwa Dam to supply the community with piped water from the Tsomo River, a promise made in 2020 by the Municipality. The community demands a consistent supply of clean running water without taps running dry.
Many promises have been made to the affected community by the Mnquma District Municipality and the premier, Oscar Mabuyane and Minister Lindiwe Sisulu.
Water supply problems have plagued this area since 2015. To date, no long term solution has been put into action by the Amathole District Municipality, The Mnquma Municipality's Portfolio Head – Water & Sanitation and The Department of Water and Sanitation.
The Covid-19 Pandemic has adversely affected the community, especially schools, clinics and hospitals where water is needed the most. When all citizens were required to wash their hands regularly to avoid the spread of the coronavirus, this one small but essential act was not possible as they had to save the little water available to them.
Residents have to walk long distances to get water in 20lt buckets. Schools sent children home early due to the lack of water. In hospitals, relatives of patients admitted had to bring water for bathing and drinking during their visits.
Community leaders have turned to the courts in desperation. Still, community members feel this may help in the initial stages but will eventually return to poor or absent service delivery.
They fear more empty promises will be made, and the Municipality is not interested in helping with solutions.
Why is this important?
Water is a fundamental human right; affected Eastern Cape residents want their water restored permanently without paying for water from water tankers, walking long distances, or boiling dirty water for drinking and cooking, which imposes health hazards. Having their water supply repaired will give the community members, residents, businesses, schools, universities and their students the dignity to complete their day to day tasks. Public bathrooms could be re-opened and give them the pride of being able to wash hands, bathe and keep their town clean.
According to the United Nations, the people of Butterworth and surrounding areas have been fighting for years to access safe drinking water, a human right. (https://www.un.org/en/ga/search/view_doc.asp?symbol=A/RES/64/292).
For five years, their calls have gone unanswered, and it's now up to us - a global community who will not stand for injustice - to speak up.
Sign this petition and add your voice to those of the vulnerable waterless communities of the Eastern Cape.
Access to clean water is a constitutional right.
Please sign this petition to protect your fundamental global human right.
Additional Information :
Picture source: Photo: Nombulelo Damba-Hendrik
2015 - 16 August 2016 | By Nombulelo Damba-Hendrik https://www.groundup.org.za/article/taps-run-dry-drought-stricken-butterworth/
2019 –14 November 2019 | By Nombulelo Damba-Hendrik https://www.groundup.org.za/article/dams-empty-eastern-cape/
MEDIA STATEMENT DWS rolls up its sleeves to bring permanent solutions to Butterworth water challenges 05 August 2021 >>> https://bit.ly/3AP8nFE
How it will be delivered
Physical handover to the mayor of Butterworth.NB:- We will be following all Covid-19 safety measures.