To:

Mr Phuthuma Nhleko Co-owner, ENGEN Petroleum South Africa.
ENGEN SA, give us back our basic Human Right, the right to a healthy environment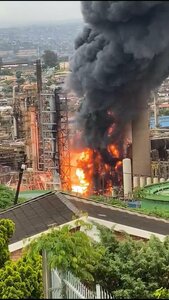 The Oil Refinery was opened in the residential area of Wentworth during apartheid in 1954 under the name of Mobil, and in 1992 it was rebranded as Engen. Wentworth is situated in the South Durban Basin, a few kilometres south of the port city, Durban, neighbouring the Bluff, Treasure Beach, Austerville, Jacobs, Merebank and Clairwood.
It was absurd to build a high-polluting, toxic serial killer refinery in a residential area where families raise and school their children. It is ridiculous that Engen is dogmatically committed to retaining this toxic asset in the coming years for oil storage.
Environmental studies over the past decades confirm incredibly high pollution levels from Engen's facility, and we worry these will continue in a different form. A survey in 2002 recorded 52% of the children in the Engen Refinery area at Settlers Primary School suffering from asthma compared to the 14 – 16% of children who live in the regions that surround European oil refineries.
The toxic fumes emitted from Engen and SAPREF over the past 58 years left Wentworth and Merebank areas as the areas with not only the highest amount of people living with asthma but also the area with the most reported respiratory diseases and, worst of all, the most cancer and leukaemia cases reported. A more recent study by Prof Rajen Naidoo of the University of KwaZulu-Natal indicated there were changes to genetics that could be hereditary. The Wentworth area also has one of the highest SO2 levels in SA, which was dangerously high before the community forced Engen and Sapref to install scrubbers.
Engen has been allowed to pollute freely at the expense of both human and environmental health and safety,.. trampling over and denying the community their Section 24 rights in the Constitution of the Republic of South Africa, "to an environment that is not detrimental to his or her health or well-being."
Between 2000 –16, Engen reported 18 major pollution incidents, including toxic vapour clouds, toxic spills, explosions, fires, leaks and a 2007 lightning strike to a fuel storage facility whose fire raged for several days. Apart from the "act of God" lightning strike, the remaining 17 incidents could most likely be due to a lack of proper maintenance, inferior artistry or inferior maintenance products. Access to maintenance records has been denied. During a storm event in March 2011, Engen had an emergency shutdown due to nitrogen and unburnt hydrocarbons being released into the atmosphere. The shutdown was for 4 months; unfortunately, the communities of Wentworth and Merebank couldn't also just "shut down" their homes for 4 months.
After the most recent explosion and fire at Engen Refinery in December 2020, it was announced – without community consultation – that Engen Refinery in Wentworth could not be fixed so that conversion would occur. But Greenpeace Africa Durban local group and the South Durban Community Environmental Alliance are calling for a Just Transition: full-fledged decarbonisation of the facility, not converted into an oil storage farm bound to cause more hazards, leaks and deadly greenhouse gas and other toxic emissions.
Why is this important?
South African President Cyril Ramaphosa released the latest national climate commitment under the Paris Agreement in Nov 2021. South Africa intends to limit GHG emissions to 398-510 MtCO2e by 2025 and 350-420 MtCO2e by 2030. SA's commitment shifts SA closer to what is needed globally for us to limit global warming to 1.5 degrees Celsius.
This is generally considered an unsatisfactory offer since the 500 megatonnes currently emitted puts South Africa as the third highest emitter per person per unit of GDP. A much more serious commitment to ending South Africa's addiction to fossil fuels is required.
Mr Phuthuma Nhleko, Engen's local Black Economic Empowerment tycoon and President Cyril Ramaphosa's leading business partner (and purchaser of Shanduka empire assets in 2016) – consistently alienated communities that he should be empowering: the black communities of Wentworth and Merebank. Instead, he continues to deprive the communities of the right to an environment that is not detrimental to their health or well-being.
Nhleko and the Malaysian (Petronas) owners of Engen Petroleum want to turn the already toxic refinery into a storage facility for fuel and crude oil. Durban activists worry that the residential area will increase approximately 2000 hazardous fuel tankers into Wentworth and Merebank, passing schools, sports fields, hospitals or small family-owned businesses.
Instead of a detox, Engen is planning a retoxification instead of detox by introducing far more dangerous chemicals to the area, including methane pollution, despite CH4 being 85 times more potent than a greenhouse gas (GHG). The South Durban communities suffered terribly in terms of health and environmental damage during the April 11-12 and May 21 Rain Bombs.
They also dread the likelihood that leakages, pipe bursts and other accidents at fuel oil storage facilities will increase as more storms pound Durban due to climate change, whose primary cause is greenhouse gases such as those from refineries and oil storage sites. Moreover, in addition to health damage, the road infrastructure can also not cope with heavy hazardous tankers driving in and out of the residential area.
Mr Nhleko, we ask you to stop trying to kill the communities you are supposed to be empowering. Your toxic fumes from the Engen refinery have been disempowering the black communities for decades. These are breadwinners who are often too sick to go to work, lose their jobs, and suffer the cycle of poverty and hopelessness.
You are already a billionaire. For once, choose the community over profit. Do the right thing for the communities you claim to empower in the South Durban Basin area.
Compel your majority partner in Kuala Lumpur to decommission the Engen serial-killer refinery and fuel storage facility. Instead, detox the refinery complex and heed the community demands for a just transition, thereby giving hope for a healthier and more productive future for all South Africans and giving the environment a chance to recover after decades of pollution abuse.
- Photo Source >>>> Alfonce Martins